Even a horrific killing isn't enough to shake Pakistan's blasphemy laws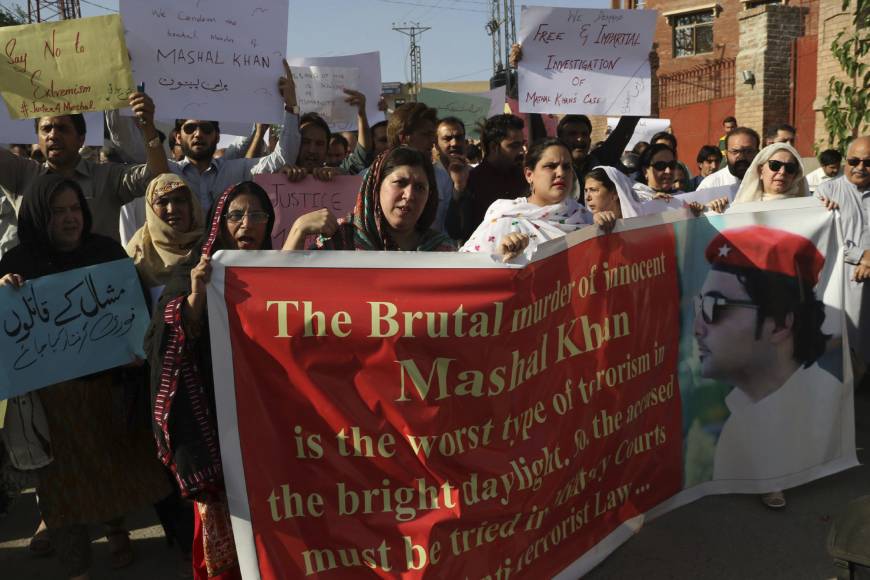 With the sudden fury of a flash storm, images of an angry mob lynching a young man to death at the Abdul Wali Khan University in Mardan, Pakistan, broke across the news cycle and social media platforms to chilling effect April 13. Mashal Khan, a 23-year-old journalism student at the institute, had been attacked after a series of accusations that he had posted blasphemous content online following an argument with a group of fellow students. Whether he had done so or not was irrelevant — the insinuation of wrongdoing was enough.
From the moment the allegations were made he was as good as dead. Everything that took place afterward was a brutal formality in a country long driven by a mindset that allows people to kill with impunity whenever they perceive their religious sentiments have been offended. And so it proved in this case also.
The savagery of the assault was captured in chaotic video footage taken on mobile phones, which showed the crowd shouting "Allahu Akbar" and stomping on Khan's lifeless body — the final rites of a slaughter in which the victim was stripped naked, clubbed, beaten and shot.
But even amid such horrific scenes, the most desperate images were those of Khan's family stoically facing up to their loss, none more so than his father, who before the full glare of the world's media called for justice for his son "so that's incidents like these do not happen with the children of others." A crowdfunding page has been set up in his name. On top of everything else, the economic future of his family was dependent on Khan.
Since then, it has emerged that there is no evidence Khan committed any blasphemy at all. According to some claims, anger against the student might have been whipped up by the university itself after his comments on a television interview about how the institute was being run. It could be that Khan's only crime was to expose the failings of a few university officials rather than abuse the prophet of Islam.
By normal human standards a tragedy of this scale would be considered a tipping point as far as blasphemy is concerned. In Pakistan however, any such hope is an absurd fantasy. When it comes to the blasphemy laws there is no heartbreak terrible enough to force the country into a moment of introspection. Khan may be the latest victim, but the funerals of those accused of blasphemy occur with an all too regular drumbeat.
In 2011, the governor of Punjab, Salman Taseer, was assassinated by one of his own bodyguards after calling for a presidential pardon for Asia Bibi, a poor Christian woman sentenced to death for allegedly showing disrespect to the prophet of Islam. Several months later, his political colleague Shahbaz Bhatti, who at the time was Pakistan's only Christian Cabinet minister, was shot dead after speaking out against the blasphemy laws and in support of minority rights.
In May 2014, Rashid Rehman, a 53-year-old lawyer, was gunned down for defending individuals accused of blasphemy. Also in the same year, a young Christian couple, Shahzad Masih and his wife Shaima, were beaten and then burned to death when they were blamed for burning pages........
© The Japan Times
visit website