Sri Lanka's firebrand monk invokes Muslim menace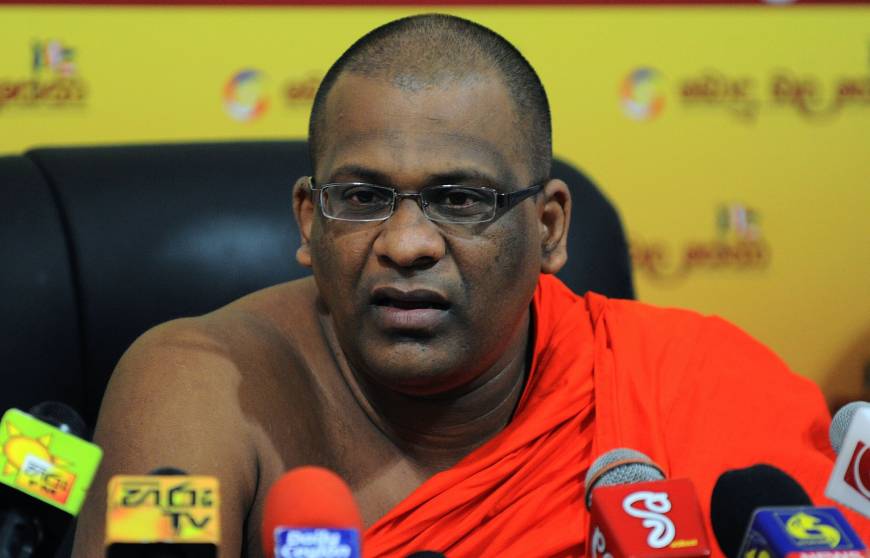 'Trump is a good man and I pray for him every day," Galagoda Atte Gnanasara told me in late April, later bragging that he himself is even better than U.S. President Donald Trump.
Gnanasara is Sri Lanka's notorious rabble-rousing monk and leader of the Bodu Bala Sena (BBS), or Buddhist Power Force, a radical nationalist religious organization. He draws crowds of tens of thousands and is known for inciting violence targeting Muslims. Gnanasara's praise for Trump came when I asked him about the Muslim travel ban.
Gnanasara whips crowds into a frenzy, passionately exhorting Buddhists to rise up and protect what he believes is being threatened — namely their Sinhalese identity. He insists he is not anti-Islam, only anti-extremism. In person, he is mild-mannered and thoughtful, a man living with minimal security despite making many enemies. In his monastery in central Colombo, there is a bank of security monitors, but aside from a few acolytes the compound is only watched over by a large statue of Kannon, the goddess of mercy.
"I think I have the most amazing ability compared with many other Sri Lankans because around 400 Christian Evangelical organizations here are all against me," Gnanasara confided. "And you know Muslims meet every Friday in their mosque, they all denounce me. Because they cannot physically kill me, they try to kill my character."
The BBS was established in 2012 following Sri Lanka's long civil war from 1983-2009, which pitted the nation's Buddhist ethnic Sinhalese majority against the ethnic Tamils in the northeast of the island who were........

© The Japan Times
visit website