Averting an accidental war on the Korean Peninsula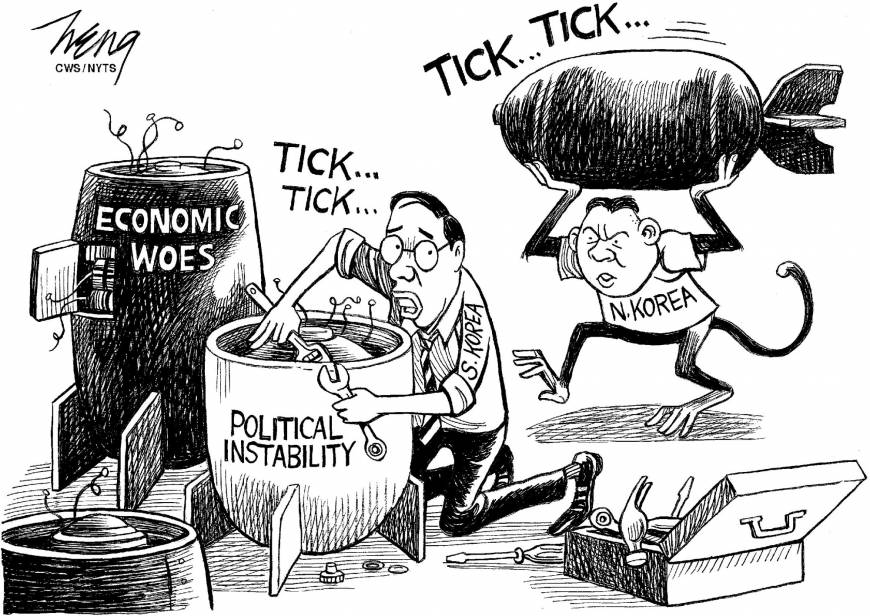 NEW DELHI – North Korea's rapid nuclear and missile advances and America's rushed deployment of a ballistic missile defense system known as the Terminal High Altitude Area Defense (THAAD) in South Korea have increased the risks of a war on the Korean Peninsula by accident or miscalculation.
U.S. President Donald Trump may be battling the "deep state" at home but, in hastening THAAD's deployment, his administration has acted proactively to present a fait accompli to the next South Korean president. The new president is to be elected in a snap poll in May after South Korea's Constitutional Court recently upheld the National Assembly's impeachment of President Park Geun-hye over alleged corruption. It was the conservative Park who agreed last July to the THAAD placement, triggering grassroots protests, especially in the area where the system was to be deployed.
The THAAD issue increasingly has become divisive in South Korean politics, and the liberals' presidential hopeful, Moon Jae-in, has said the system's deployment unnecessarily escalates tensions on the peninsula. However, anticipating that the Constitutional Court would oust Park and that Moon could win the presidential election, the Trump administration began THAAD's placement early this month.
Trump, during his own election campaign, gleefully challenged diplomatic orthodoxy, including American foreign policy's long-standing principles and shibboleths. Yet by implementing his predecessor's THAAD decision with enthusiasm to speed up the system's deployment, Trump has offered an example of how he is embracing key pillars of the previous administration's foreign policy.
Two fundamental issues raised by the THAAD placement, however, cannot be obscured.
First, the deployment has been necessitated by the abysmal failure of the U.S.-led strategy to squeeze North Korea with ever-increasing international sanctions while shunning any diplomatic engagement with it. The sanctions-only approach, far from stymieing North Korea's development of weapons of mass destruction, has only encouraged it to single-mindedly advance its nuclear-weapons and missile capabilities.
In the decade since the United States froze all diplomatic contact with North Korea, that reclusive communist nation has gone from possessing rudimentary WMD capabilities to testing advanced systems that pose a regional threat. For example, it tested a nuclear device last September whose yield, as recorded by outside seismic monitoring stations, was twice as powerful as the atomic bomb that the U.S. dropped on Hiroshima in 1945. Since last year, Pyongyang has also tested solid-fueled missile systems, including one that can launched from a submarine.
And second, the THAAD deployment, although arising from a failed American strategy, is no plausible answer to North Korea's nuclearization. Indeed, this is a case of the supposed remedy being worse than the disease.
The deployment could counterproductively lead to North Korea (and China, which fears that THAAD's sophisticated X-Band radar could track its........
© The Japan Times
visit website